Firm History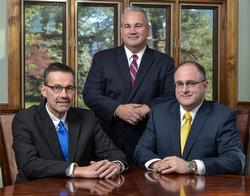 Lemire, Johnson & Higgins, LLC was established by three accomplished lawyers sharing a common vision and a core set of values. Chris Lemire, Gregg Johnson and Tim Higgins have taken great pride in assembling a team of professionals who share their fundamental values of hard work, integrity, high quality personal service and a relentless focus on understanding and developing solutions for their clients. LJ&H is a litigation law firm located in Saratoga County, New York well-known for its experience and expertise in the areas of labor/employment, workers' compensation, and personal injury. The attorneys and professional staff of Lemire, Johnson & Higgins, LLC are committed to providing all clients with the highest quality legal representation associated with large practices, combined with the accessibility and focused attention of a boutique firm.
The original law firm Lemire Johnson, was created by Chris Lemire and Gregg Johnson, who met as law students in the 1980s after they independently built complimentary practices during the first two decades of their professional lives. Lemire, Johnson & Higgins was formed January 1, 2014 with the addition of Timothy J. Higgins.
The litigators of Lemire, Johnson & Higgins, LLC regularly appear before federal courts, state courts, Workers' Compensation Board, appellate courts, federal and state agencies, administrative law judges and agency hearing officers. In defense of employers, public officials and municipalities, our attorneys have achieved success by evaluating litigation early, shaping cases for pre-trial resolution, and aggressively using discovery and motion practice to reduce or eliminate claims and our clients' exposure. On behalf of injured workers LJ&H attorneys carefully evaluate and investigate claims and aggressively prosecute claims before the New York State Courts, the NYS Workers' Compensation Board and the Social Security Administration. At all times, we continuously strive to litigate efficiently by utilizing institutional resources and staffing files appropriately while maintaining the highest level of service.
LJ&H's litigation attorneys also provide day-to-day advice to clients regarding a variety of employment, law enforcement, and risk management issues. Our firm also provides practical, prevention-based solutions to private employers, public employers, and law enforcement professionals through training programs to ensure compliance with all applicable laws and to reduce claims.